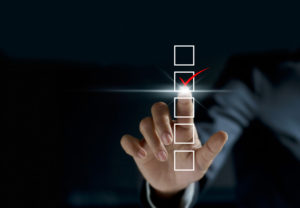 So far we've been coming up to speed on a variety of IoTThe Internet of Things. A broad term covering many different applications where "things"  are interconnected through the internet. notions. Up to this point, I have focused much of it on giving you information that could be specifically useful if you're making an IoT device purchase. So I wanted to take that one step further and capture some specific questions that you should be asking when making a purchase.
You can find those questions on this checklist. They're pretty straightforward, and if something isn't making sense, there are links back to some of the posts where the topics were covered.
Bear in mind: there aren't necessarily right or wrong answers to these questions. If, for instance, if you must connect your device to the internet in order for it to work (that's one of the questions), then, if that's ok with you, then fine. But now you know for sure. If it's not ok with you, then you know and can look elsewhere.
There's always the risk that some salesperson may not know the answers to these questions. Because, honestly, it wouldn't surprise me if they hear at least some of the questions first from you. I'd suggest not accepting "I don't know" as a sufficient answer. If they don't know, then get them to find out. And if they lose a purchase (or several) due to not knowing the answers, then hopefully they'll get trained up. They can read this checklist as easily as you can, so you can always point them to this site to help them.
Also, keep in mind that this checklist may grow in the future. Most of what's on there is stuff we've already covered; there may turn out to be other important things that we need to add later. I'll let you know when I've updated the list.
Good luck with your shopping!!
Where to from here?
Meanwhile, we'll continue on, but our focus will start to turn in a couple of different directions. On the one hand, we'll continue to drill into the technology. This is so that you can learn how this stuff works – to a certain extent. No, you're not going to be engineers when we're done, as I've noted, but you'll have a much better feel for how your electronics work.
On the other hand, we'll also look at various specific instances of things gone well, things gone not so well, and people and companies that are incorporating the IoT into their lives and businesses. Case studies, perhaps.
So there's lots to talk about going forward, and I hope you'll continue being curious about how this all works.